Our diocesan vision is to grow as Kingdom People,
sharing the good news of Jesus' love in Worcestershire and Dudley.
As the body of Christ, we join together to worship God, make disciples, share hope, and transform communities.
Following two rounds of Open Conversations about the future of our Church, we are now working with deaneries and parishes through a series of local discussions.
We want to enable church communities across the Diocese to grow in health and sustainability by:
Inspiring local church communities to be ambitious in generating appropriately local responses that enable them to flourish and grow.
Equipping and strengthening church communities by providing training, and by establishing new approaches and forms of support.
Adopting leadership models that support and develop ordained and lay leaders in enabling local church communities to be adaptive, and to grow spiritually, numerically and in depth of discipleship.
Promoting wise stewardship that ensures financial stability and provides the space to deliver a robust growth programme, that increases the number of healthy and sustainable churches.
Support and Resources
We are focussing our thinking on four areas of work that are all important aspects of being healthy and sustainable churches:
Worshipping God
Making Disciples
Sharing Hope
Transforming Communities
Go to this page to find a range of resources, whether on this website or elsewhere, which we have tried to group under each of these areas of work, so that you can quickly find the resource you're looking for.
Keep reading for more about the ongoing conversation and sources of support and encouragement for your parish.
Encouragment and Support
Watch our latest film with Archdeacon Nikki and Rob Quarton talking about some of the exciting things that are happening in 2022:
Healthier Churches Fund
We are creating a five-year, £4.05m Healthier Churches Fund using money which has been freed up from investments alongside some Lowest Income Communities funding. Parishes will be able to apply for funding for projects to help make a difference in reaching out in their community and bring more people to faith as we grow as Kingdom People and build healthier and more sustainable churches. Find out more
Mission Accompaniers
As we seek to grow as Kingdom People, all parishes are being offered the opportunity to receive some support in the form of a Mission Accompanier, who will work alongside the clergy and laity in the parish, church or benefice to help understand what health and sustainability might look like in your context, setting or tradition. Find out more
Conversations about the future of our Church
As we seek to grow as healthy and sustainable churches, our continuing Open Conversations are a chance to come together to talk about the future of our Church, listening to and learning from each other.
As we continue to journey through the pandemic, we're aware that not all churches were ready to join the deanery conversations we held in March, so there will be other opportunities to engage in June and also in September. Find out more and book
Growing in health & sustainability - the change framework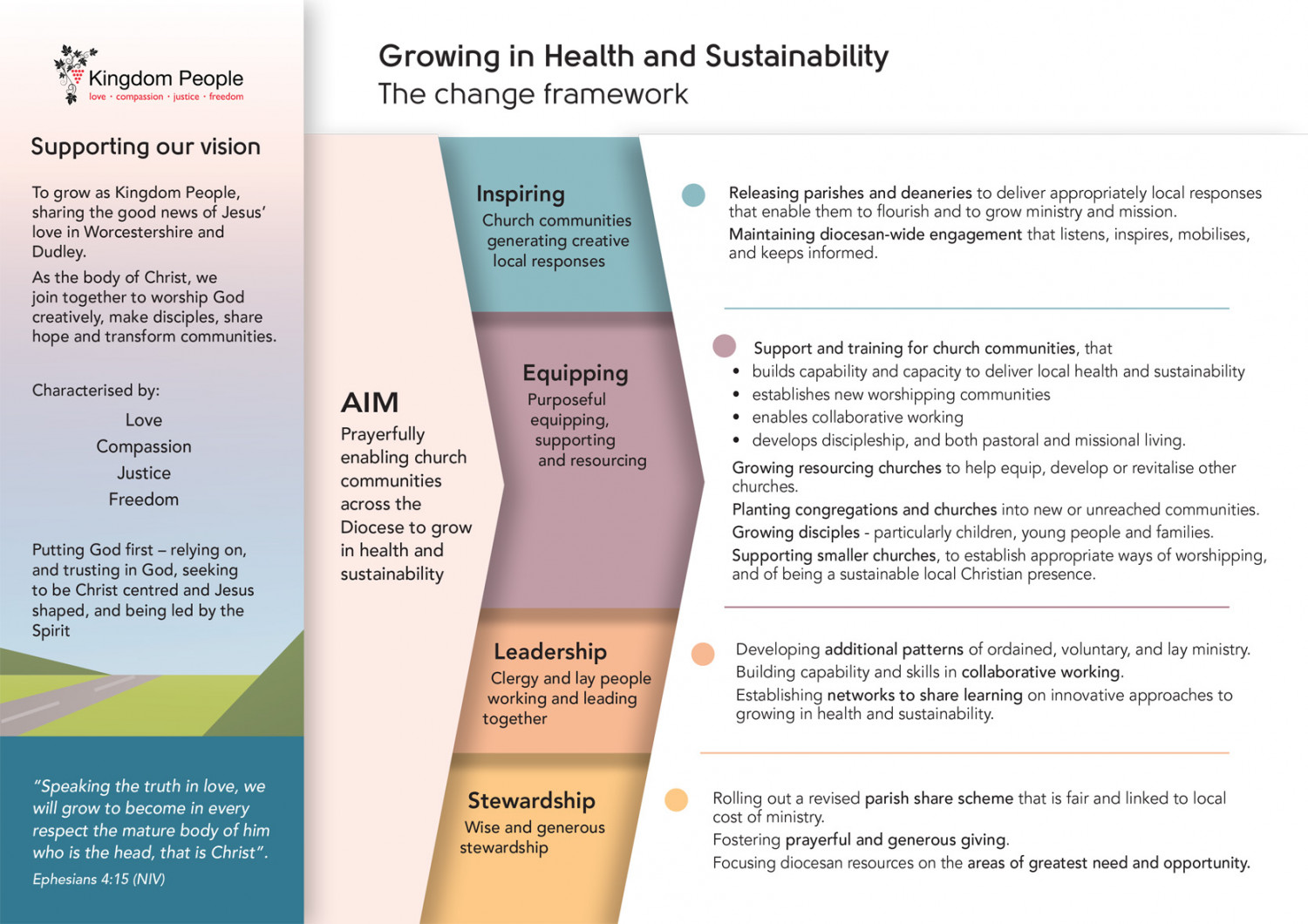 Changes to our deaneries
One of the key enablers to enable us to grow as a healthy and sustainable church was reducing the number of deaneries. We have now moved from 13 to 6 deaneries. This grew out of the very first round of conversations, and is a reminder that these conversations are shaping the day to day life of our parishes and diocese.