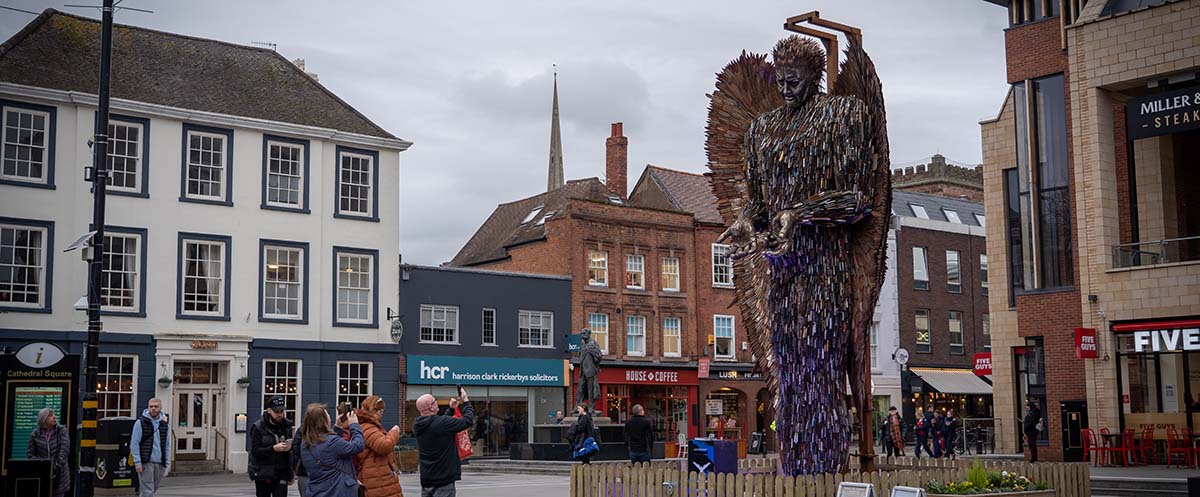 The Knife Angel stands 8 metres tall and is made from over 100,000 knives and blades received from 42 police forces across the UK. Created by Alfie Bradley from the British Ironwork Centre in Oswestry, it will be coming to Catherdral Square in Worcester on 1 March and staying until 31 March.
The Knife Angel has become recognised as a national monument against violence and aggression. The monument has already been touring around the UK and has been in the neighbouring cities of Hereford and Birmingham. The aim of the statue is to raise awareness of knife crime and how much it impacts individuals, cities, families and communities.
Throughout this time there will be a prayer space inside the Cathedral for quiet reflection with resources to aid prayer and reflection. There will also be a memorial service at Worcester Cathedral for victims lost due to knife crime, violence and aggression on Saturday 26 March at 12pm.
There will be several events at the Knife Angel itself throughout the month. Engagement sessions for school groups will be taking place in the Cathedral's Undercroft Learning Centre. These sessions are now fully booked.
The Dean of Worcester, Peter Atkinson, said:
"We are delighted to be able to host the learning and engagement sessions for young people visiting the Knife Angel in our newly redeveloped Undercroft Learning Centre at Worcester Cathedral. The vision of the project to redevelop the Undercroft into a Learning Centre is to create a place available for the community of Worcester to learn together. Therefore, it is a fulfilment of this vision to host sessions supporting the Knife Angel's objective to create social change and raise awareness of the effects of violent crime.

"The Cathedral will also be providing an opportunity for the whole community to engage with the Knife Angel through space for prayer and reflection and through our memorial service towards the end of the month."
Whilst the Angel is on display, it might be worth arranging a visit for your youth group. It will certainly raise questions relating to knife crime, justice, revenge and forgiveness. The Diocesan Calling Young Disciples team have prepared a youth group session unpacking some themes related to the Knife Angel, offering games, discussion questions, activities, bible study, prayer and challenges.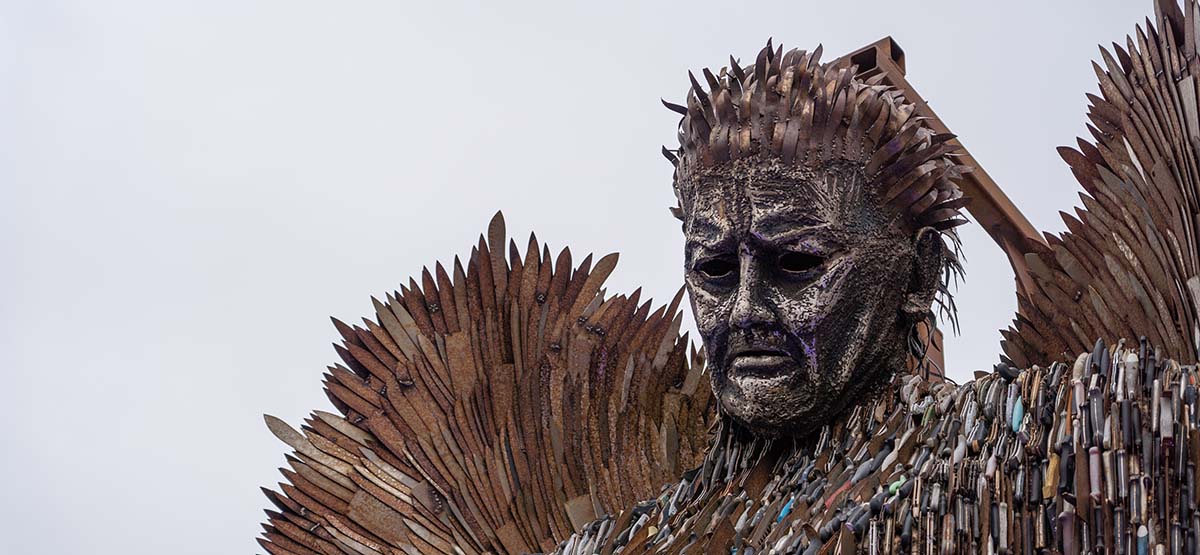 Resources for Youth Groups
Feel free to download this material for use with your group.
Web links
Video Links:
As part of the Knife Angel coming to Lancashire, they created a series of short, 3-6 minute videos to help young people and wider communities to see this impact in a way they might not have thought about previously. https://www.lancsvrn.co.uk/knife-angel-knife-crime-videos/
Videos sharing experiences of women whose children have died as a result of knife crime they were made to show what knife crime does to families, and ask people to help save other families from losing their son or daughter. https://www.hardcallssavelives.co.uk/