Now restrictions are lifting, many of us would like to get away on holiday. How do we reduce the negative environmental impact of our holiday, and increase the positive? This edition of Called to Action offers small steps to minimise our travel footprint.
Holiday travel accounts for about 4% of global carbon emissions. Find out more
Be more eco-friendly by:
Going 'Flight Free' for holidays in 2021
Use public transport. The new station Worcestershire Parkway links us easily with more destinations. Trains and buses all have good anti-COVID precautions.
Book in advance you can get great train ticket deals. You can take your dog or cat, though booking is needed for bikes.
When you have minimised your travel footprint as much as possible, you could try using 'Climate Stewards' to offset your travel footprint. More information
Useful links: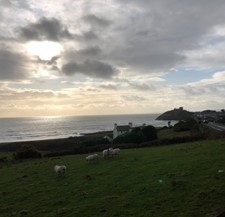 'Eco-holidays' are increasingly popular. Watch out for holidays that are accessible by pubic transport. Some offer discounts of up to 10% if you do not arrive by car.
A proper 'staycation', doing day trips from home, can be one of the most relaxing and greenest ways of taking a break.
Taking action on green holiday travel could support:
Eco Church (for churches) : Lifestyle: 3, 4 & 5
Creation Care (for households): Travel: 4.10, 4.11, 4.12, 4.13, 4.15