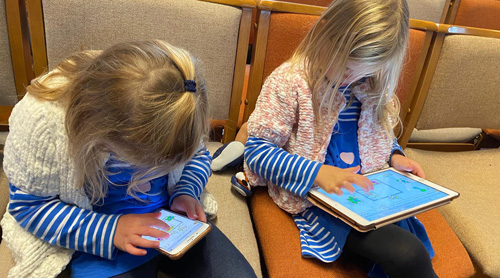 Welcome to your page, we wanted you to be able to enjoy being in church and so have created this page just for you.
Each week we will put up interactive children's resources for you to engage with using your phone or tablet, we will have different levels of difficulty for most of the activities, do whichever ones you fancy. You should also find the Bible passage being used as the idea for the activities and an explanation for you to help you think about what God might want you to do this coming week. So click on the link below for this week (or any other), read the Bible passage and the explanation and then decide, do you want to do Easy, Medium or Hard – the choice is yours – Enjoy!
Download a QR code
Parishes can download a QR code to use in orders of service to help make it easier for people to access this page on the website. They can scan the code using the camera app on their smart device.
---
Live the incredible adventures of the Bible!
Guardians of Ancora is a world-class digital game – an amazing virtual world that 8- to 11 year-olds can enter, and a place where the Bible stories come alive. We ask that if you use this app in church you must wear earphones or have the sound off. Oh and also check with the person who owns the device that you can use their data!
---
Weekly Activities
Click on the dates or pictures below.