Next week is Love your Burial Ground Week, a dedicated week for churches to celebrate their burial ground. Organised by Caring for God's Acre, the week runs from Saturday 5 until Sunday 13 June and this year, churches are being encouraged to take part in the 'Churches Count on Nature' initiative, to help record the wildlife within their churchyards.
It is hoped that individuals and groups visiting churchyards during this week will make a note of the animals, birds, insects or fungi they find there – this data should then be sent to Caring for God's Acre where it will be passed on to be collated on the National Biodiversity Network. For this project, Caring for God's Acre is working in partnership with A Rocha UK, the Church of England, and the Church in Wales.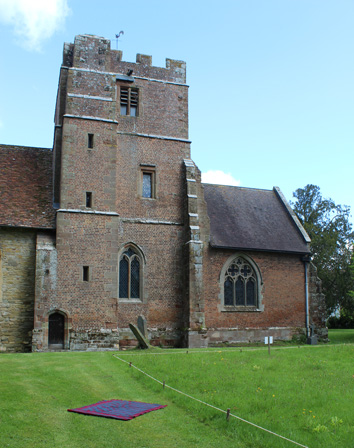 St Mary's Church in Hanley Castle have signed up to 'Churches Count on Nature' and are holding a number of events throughout the week to encourage everyone to come and enjoy the churchyard. This includes a family nature trail around the churchyard on Sunday 6 June, a special Evensong to present certificates to those households who have achieved an award through the Creation Care website (https://creationcare.org.uk) and a Wildflower walk on Tuesday 8 June with a local expert.
PCC Member, Sue Roberts, said:
"We were already working with the local 'Hanley Habitats' group, which is part of a Parish council initiative to become a zero-Carbon village. This group encourages flower and natural habitats and this year the church has two areas of the churchyard which have been left to go wild. We are also now close to gaining our silver Eco Church award, so joining in with the Count on Nature fits with both of those things and is all part of our response to the climate crisis."
It is thought church land, often uniquely unploughed and undeveloped, could be a habitat for precious and endangered plants and other wildlife. Both the Love Your Burial Ground week and Churches Count on Nature initiative are open to anyone with a love of nature and churches are encouraged to link with local schools, local wildlife groups, and those who may not have visited before to discover churchyards.
Caring for God's Acre have plenty of ideas and resources for churches who would like to get involved: https://www.caringforgodsacre.org.uk/.
St Faith's Church in Berrow will also celebrating Love Your Burial Ground week through counting the Swifts in their graveyard and a tour through the tombstones to look at lichen. Cakes from the Barn will also be serving delicious treats on Saturday 5 June from 2 - 4pm. Download their flyer to find out what's on.
The Revd Doug Chaplin has recorded this reflection for Love your Burial Ground Week: