A new resource from our Calling Young Disciples Team will help children to explore their faith through reference to popular cartoons. CYD Mission Enabler, Helen Laird, explains more about the resource and how you can use it in your parish.
"Our 'Your Baptism Journey' resource has been well received across the Diocese and beyond, being used as far away as Australia! These monthly activity sheets feature a well-loved book aimed at toddlers and use it to help families to explore their faith.
But, children grow up and it's a blessing to watch them do so! We began to explore what might be appropriate for slightly older children and our new Faith through Cartoons series has grown out of this. There are 12 editions of this resource, which will be released on the 15th (or thereabouts) of each month during 2022.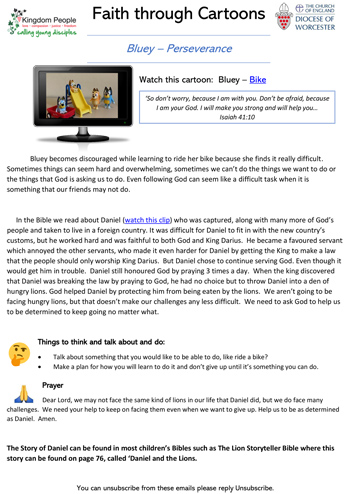 The resources use Bluey, Thomas and friends, Snoopy and Mister Bean cartoons (3 of each) and each monthly edition has a similar layout and style to 'Your Baptism Journey'. The hope is that a parent, friend, or guardian will watch the cartoon with the child/ren and then use the resource to discuss the biblical theme which has been identified. The resource provides: a link to the cartoon, a Bible verse, some thoughts on the Biblical theme, some ideas of things to think about or do and a prayer.
We hope that parishes will find this resource helpful and will pass it onto families. To subscribe to receiving this resource each month please email the CYD Project Team."
Download an example of the Faith through Cartoons resource.
Find out more about the 'Your Baptism Journey' resource on this page.