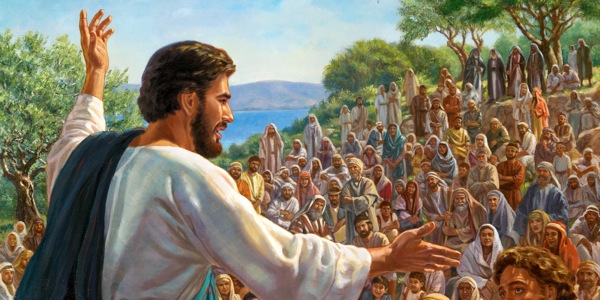 Bible Reading
John 6: 35
Then Jesus declared, 'I am the bread of life. Whoever comes to me will never go hungry, and whoever believes in me will never be thirsty.

It is written in the Prophets: "They will all be taught by God." Everyone who has heard the Father and learned from him comes to me. No one has seen the Father except the one who is from God; only he has seen the Father. Very truly I tell you, the one who believes has eternal life. I am the bread of life. Your ancestors ate the manna in the wilderness, yet they died. But here is the bread that comes down from heaven, which anyone may eat and not die. I am the living bread that came down from heaven. Whoever eats this bread will live for ever. This bread is my flesh, which I will give for the life of the world.'
Explanation
In this week's bible story, a crowd of people had been listening to Jesus.
They knew him as the son of Mary and Joseph the carpenter. He was a carpenter like Joseph.
Why was he talking about God like this? Who did he think he was?
Jesus explained that many people didn't yet recognise who he was, but he had come as God had promised so that people could live for ever with him.
He reminded them that their families long ago would have known about this from the prophets. (A prophet is someone who wrote down messages from God, a long time ago, about the promised Messiah – Jesus.)
Sometimes we can make assumptions about people. An assumption is something that we think we know about someone by something we see or hear. Sometimes though we do not know the whole story!
For example, you are walking home from school and further down the road you see someone push someone else. What do you think (assume)? Are they being a bully, about to have a fight?
What you did not see is that the person pushed the other one out of the way, to stop them walking into tree branch that was just about to fall on their head!
We need to find out more about that person or story.
Prayer
Lord, Help us this week to not make assumptions about people. Help us to stop and think about the whole story. Amen.
Activities
Each activity opens in a new window – so close each game when you have finished to return to this page for more activities. If you have any feedback, please do let us know!
Jigsaw Puzzle
Swap Puzzle
Seeing the whole story
Can you find a plaster, a bannana, a clock, a comb, a cracked egg, a crayon, a cup, an envelope, a fish, a fishing pole, a ladder, a ladybird, a paintbrush, a pitchfork, a tennis racker, a watch and a worm?!
---

---
Although this webpage may include links providing direct access to other Internet resources, including websites, The Diocese of Worcester is not responsible for the accuracy or content of information contained in these sites. We recommend you use only the activities provided and do not click on any links on the games pages.